Slick - Different Sizes Avaliable, Price Varies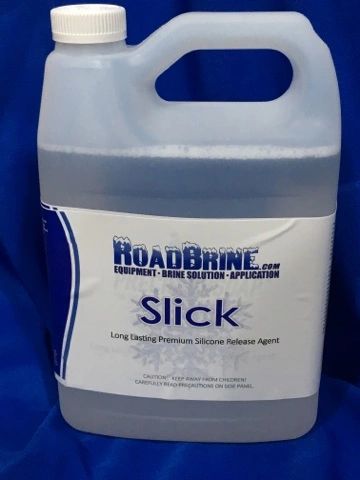 Slick - Different Sizes Avaliable, Price Varies
WHAT IS SLICK?
The latest chemical additives are incorporated to increase the efficiency of snow removal equipment and asphalt equipment by coating surfaces with a hard slick finish, reducing the friction of snow and asphalt. The built in rust inhibitors make it an effective rust inhibited coating for use on asphalt equipment, dump trucks, snow blowers, graders and buses, when used in a regular maintenance program.
BENEFITS:
• Prevents sticking allowing for more efficient work.
• Prevents piling.
• Enables plows to cover more mileage.
• Easily applied by brush or spray gun.
• One application covers an entire day's plowing & MORE.
• Inhibits the formation of rust.
• Prolongs life of equipment.

DIRECTIONS FOR USE:
Before using, make sure that the desired surface is cool to prevent early evaporation. Read MSDS and test in a small inconspicuous area.
Clean vehicles and surfaces before application.
Apply solution with a low pressure applicator.

Reviews