SaltGuard - Different Sizes Avaliable, Price Varies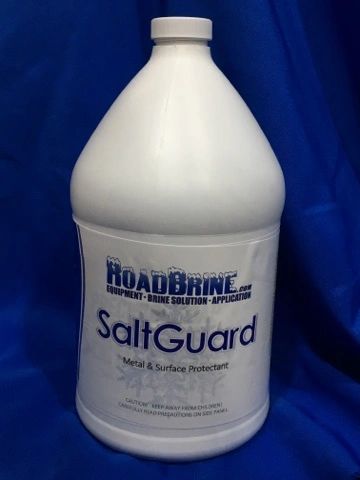 SaltGuard - Different Sizes Avaliable, Price Varies
WHAT IS SALT GUARD?
A concentrated liquid for the removal of salt and inhibition of corrosion to a wide variety of metals, especially iron. Salt Guard will leave behind a temporary barrier to fight the effects of salt on metals, prolonging the quality of vehicles and salting equipment. This product is safe for use on a variety of surfaces including: aluminum, chrome, gel coats, glass, iron, paint, plastic, rubber, and stainless steel. After application, no rinsing is necessary.
BENEFITS:
• Prolongs the quality of metals and vehicles.
• Specially formulated for heavy duty equipment and salt applicators.
• Will help prevent the formation of rust.
• Reduces the maintenance costs for vehicles and equipment.
• Highly concentrated allows for multiple applications.
DIRECTIONS FOR USE:
Before using, make sure that the desired surface is cool to prevent early evaporation. Read MSDS and test in a small inconspicuous area.

Clean vehicles and surfaces before application. Dilute Salt Guard Xtra with up to 20 parts water. Stronger Solutions will provide better results. Apply solution with a low or high pressure applicator. Use warm water if possible. Allow surfaces to dry.

SPECIAL NOTE:
Rinse surfaces then apply Salt Guard Xtra. Do not rinse after application.
Regular application of Salt Guard Xtra will provide optimal results.

Reviews